Self Guided Tour, 2 Hours - $49
A fun and safe ride to 4 waterfalls

2 Hour Self Guided Tour of the Columbia Gorge National Scenic Area

Horestail Falls, Pony Tail,  Multnomah, and Wahkeena Falls.
Morning, Mid-day, and Afternoon Times. 
Most Popular, 3.5 hours - $75
Self guided, 3.5 hour waterfall tour
Visit several State Parks and the National Scenic Area at Multnomah Falls
Park your bike and explore 7 waterfalls.
The most highly rated way to see the area (Most Google Reviews and Highest Rating)
Staff Favorite - $149/person
Enjoy 25+ miles of Scenic Byway on this self guided tour.
Visit Vista House, State Parks and the National Scenic Area.
Park your bike and explore 9 waterfalls.
Read our reviews and see why our customers say this is the only way to go.
Make your trip to Oregon's favorite falls even MORE memorable when you go by e-bike! We're located just down the road so you don't have to wait to park AND you get to see more waterfalls on the way!
Parking and permits included with all tours!
Must be 16 years of age.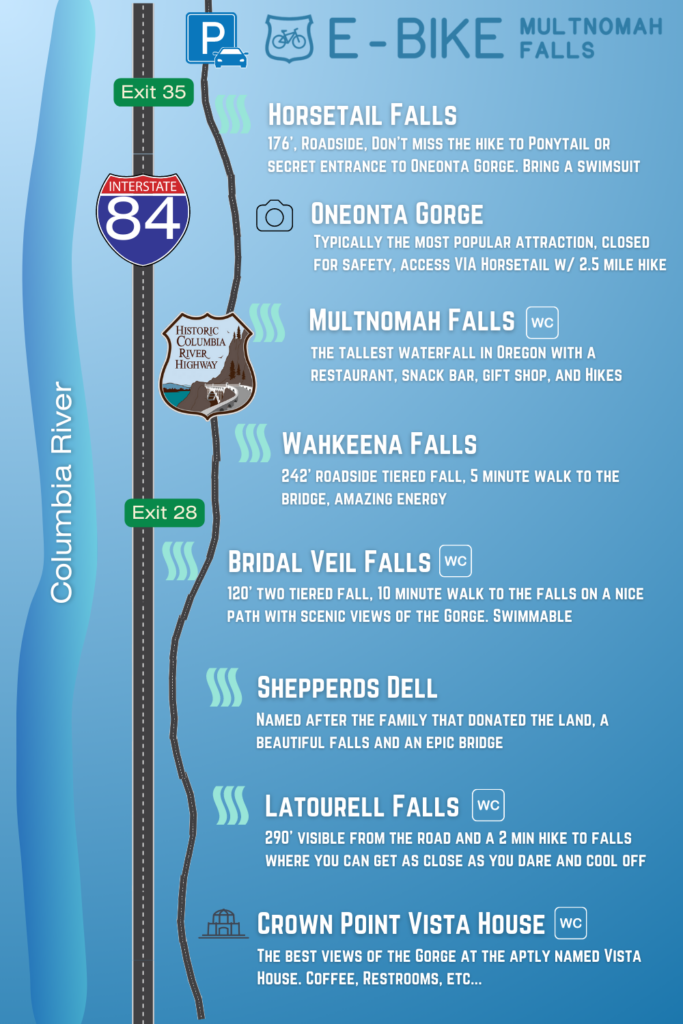 Learn More About Our Tours
Why will you love E-Biking Multnomah Falls?
What Our Customers Are Saying
TOP 3 COOLEST EXPERIENCES OF OUR LIFE!
Easily one of the coolest things we've ever done/seen! The Ebikes make seeing the falls so easy! The scenery was unreal, the bikes were thrilling - would recommend this tour to anyone! Wear hiking shoes & bring water!
AMAZING EXPERIENCE! A MUST DO!!
If you are in the area and looking for something fun to do, don't miss out on this experience. So much better than trying to see the falls from cars or other methods!
E-BIKES (VS CARS) ARE THE WAY TO GO!
Great service and very informative about the trails. The whole process was simple and enjoyable. The falls were fantastic and using the E-bikes is the only way to visit them if you ask me.
ABSOLUTELY AMAZING!!
I had so much fun on my ebike! It's a fun way to beat the crowds at Multnomah Falls and all of the other bonus waterfalls are amazing! Would definitely recommend it to anyone visiting Portland.
EBIKES: THE ONLY WAY TO VIEW THE FALLS
The ebikes were tremendous fun, and Taylor made the entire adventure safe, informative, and fun! We would do it again.
WONDERFUL WAY TO SPEND THE DAY AT THE FALLS
Renting Ebikes is a must if you are in the area. So much fun and the guide gave us great information before we took off on a truly one of a kind experience.
Ready to Book? Check Availability:
If you have additional questions you can consult our Frequently Asked Questions or reach out to us directly.